Andy McCain says his Vanderbilt education has helped him navigate life as a "giant open-book test".
By Lily Kane is associate director of communications with Vanderbilt's Office of Development and Alumni Relations Communications and Services.
"Trust me," says Andy McCain, BA'84, MBA'86. "As you get older, you really start to reflect on. the people, places and institutions that had a profound impact on you."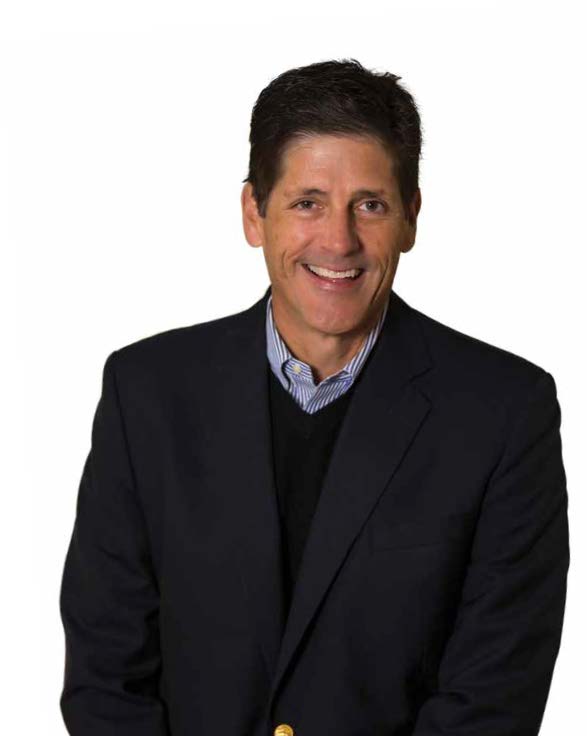 For McCain, Vanderbilt is near the top of that list—and the decision to attend often feels a lot like fate. As a high school senior in Jacksonville, Florida, he realized his poor eyesight would keep him from following in the footsteps of his father, the late Arizona Sen. John McCain, and attending the Naval Academy. He found himself deciding between Vanderbilt and Wake Forest, two schools with great academic reputations in cities he'd never visited. "At the last minute—and I mean less than a week before I had to decide—my family encouraged me to choose Vanderbilt," he says.
He did, and the experience changed his life. He met his wife, the former Lucy Medley, BA'84, at Vanderbilt, made lifelong friends, became a "die-hard Commodore fan," and laid the foundation for his professional life. He laughs about how college decisions rarely happen like that nowadays.
When it came time for the McCains' daughter, Margaret, BA'14, to apply to college, while they hoped she might attend their alma mater, they "probably visited 12 schools before she decided," her father says. Nashville proved a great fit for Margaret, who still lives there and was later joined by her brother, Andy.
McCain decided to remain at Vanderbilt for his MBA because he knew a business degree was a valuable professional asset and the Owen School's collaborative environment was of "notable distinction."
"From a business standpoint, real life is not an individual pursuit," he says. "You're always going to be working in teams, and Owen offered a great platform to learn that." He leaned on his undergraduate math major to fill out management education with accounting classes because, he says with a laugh, "I consider myself a repressed marketing guy, but the practical side is really important as well."
McCain's first job out of Owen was with American Airlines. The company had recently opened a hub in Nashville and was recruiting heavily from Vanderbilt. McCain and several of his classmates were hired by American that spring, including longtime friends Jim Loftin, MBA'86, and Doug Parker, MBA'86, who would return to the airline as its CEO in 2013.
After Lucy and Andy married, they returned to Jacksonville, where he worked for a regional bank for nearly a decade before shifting gears and moving to Phoenix to work with his stepmother Cindy McCain's family business, Hensley Beverage Co. Hensley is Arizona's leading distributor of Anheuser–Busch products, imports, craft brews, fine wines and spirits, and premium nonalcoholic beverages.
McCain credits his success in part to the three varied phases of his professional career. "By pursuing different paths, I got a breadth of experience, core analytical skills, and a comfort level talking about a number of topics," he says, adding, "I also got comfortable being uncomfortable, which is vital." This continual skill-building is important to McCain and goes hand in hand with another lesson he learned at Owen: "Life is a giant open-book test. You're figuring it out along the way, so the relationships you make really matter."
This diverse experience also helps McCain, as president and CEO, to oversee all aspects of Hensley's beverage distribution business, including operations management, financials, strategic growth, sales and marketing. Like many of his classmates, he is facing some of the most significant challenges of his career during the global COVID-19 pandemic.
McCain has become keenly aware of industry shifts in consumer behavior during this time. In addition to the loss of revenue from restaurants and events, an early notable decline was in convenience store sales; people are not driving as much and, as a result, are not stopping frequently for gas. People also are buying in larger sizes to reduce the number of trips they take to the store. On the other hand, e-commerce and delivery has taken off in unprecedented ways. The Anheuser–Busch distributor also saw a return to trusted brands, like Budweiser, which McCain attributes to "a comfort level that people seek in times of uncertainty."
During this crisis the company also has sprung into action to help its community. Efforts have included producing and distributing hand sanitizer, donating thousands of bottles of water to frontline workers and those in need, and providing financial support to local food banks, the Red Cross, the Salvation Army, and to industry resources for the thousands of suddenly unemployed workers, such as the National Restaurant Association and the United States Bartenders' Guild.
While McCain feels a moral imperative to help, he reminds any businessperson not so moved that "consumers remember the companies who stood up when times were bad and develop an affinity for their products."
Vanderbilt has played such an important role in our lives that we wanted to make the same opportunities available to someone else, and we are blessed to have the means to do so through our bequest.
In McCain's estimation, the biggest takeaway from the pandemic has been an unexpected one. "The situation has really heightened companies' awareness of the welfare and general health of their employees, which is wonderful," he says, "but I'm sorry it took COVID-19 to prompt it on this scale."
The McCains are committed to giving back personally, too. McCain is active in the Phoenix community in roles including membership on the Patrons Committee of United Methodist Outreach Ministries' New Day Centers, as past chairman of the board of the Fiesta Bowl, and as past chairman of the Greater Phoenix Chamber of Commerce.
In 2019 he and Lucy documented a bequest to Vanderbilt that will establish a McCain Family Scholarship at Owen and Vanderbilt. Reflecting on his parental influence, McCain says, "Being a Navy family, many sacrifices were made so we could attend good schools and be well-prepared for the rigors of college. It made a lasting impression on me, and my wife and I have shared these same beliefs with our kids. Vanderbilt has played such an important role in our lives that we wanted to make the same opportunities available to someone else, and we are blessed to have the means to do so through our bequest."
In the meantime, he says, "It is fun to be involved with the school." McCain serves on Owen's Board of Visitors, and—as he has been since the moment during his junior year when Vanderbilt's football team beat top-ranked University of Florida at home—he remains an avid member of Commodore Nation.
EDITOR'S NOTE: McCain was interviewed on May 14, 2020.