More than 40 thought leaders convene on Vanderbilt's campus for research presentations and a taste of Nashville
By Lacie Blankenship
The Vanderbilt Owen Graduate School of Management recently hosted the inaugural Music City Accounting Research Conference. From June 9 through June 11, over 40 thought leaders from across the globe gathered on campus.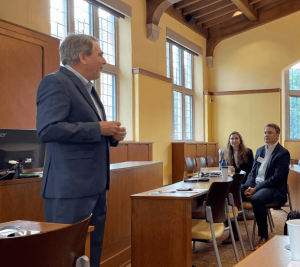 "We hosted the Music City Accounting Research Conference for researchers to discuss innovative accounting research with a selective and interactive audience," says Rita Gunn, Assistant Professor of Accounting and Conference organizer.
The weekend kicked off with a reception dinner on Thursday evening. The core conference took place on Friday, capped off with dinner featuring a traditional Nashville songwriters-in-the-round performance. The agenda concluded with a tour of Nashville and brunch on Saturday morning.
Dean Eric Johnson greeted conference attendees with a message that "it's a great time to be in Nashville," naming a few examples of the growth happening in the city (the renovation and expansion of Management Hall, continuously growing tourism, and AllianceBernstein's new headquarters).  
"You can't go hardly anywhere without seeing the enormous growth happening here," says Johnson. 
Friday's sessions primarily focused on 4 manuscripts selected earlier this year. The speakers and discussants shared presentations, answered questions, and received feedback from attendees. 
James Naughton (University of Virginia) was awarded the 'Best Paper' of the conference, and Joshua Madsen (University of Minnesota) was named the 'Best Discussant' of the conference. Both won custom guitar-trophies and were recognized during the day's closing remarks.  
"We were thrilled with the submissions we received and are so pleased with the interactive environment we created," says Gunn. "It was powerful to see everyone in-person again and engage with the work of others."
 The Music City Accounting Research Conference was supported by a Hosting Advisory Committee and an External Advisory Committee. 
The Hosting Advisory Committee consisted of Paul Chaney, E. Bronson Ingram Professor in Accounting, Gunn, Hunter Land, Erik Olson, Assistant Professors of Accounting, Richard Willis, Senior Associate Dean for the Faculty and Anne Marie and Thomas B. Walker, Jr., Professor of Accounting, and Daniel Cohen, Professor of Accounting. 
The External Advisory Committee consisted of Chris Armstrong (UPenn), Brad Badertscher (Notre Dame), Jennifer Blouin (UPenn), Mark Bradshaw (Boston College), Anna Costello (U Chicago), Yonca Ertimur (Colorado), Henry Friedman (UCLA), and Alan Jagolinzer (Cambridge).
"I am so happy with how the inaugural Music City Accounting Research Conference turned out," says Gunn. "I look forward to taking this energy to next year's conference!"