Peterson (MBA'94) helped spearhead the company's corporate development department and now oversees a portfolio of businesses at UnitedHealthcare.
By Lacie Blankenship
Eric Johnson, Dean of the Vanderbilt Owen Graduate School of Management, announced that Matt Peterson (MBA'94), CEO of UnitedHealthcare Ancillary & Individual, will speak at the school's 2023 Commencement on May 12.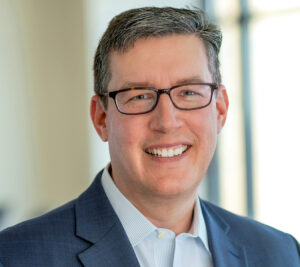 "We are honored to have Matt Peterson deliver the 2023 Commencement address," says Dean Johnson. "Peterson embodies so much of what Owen stands for with his pursuit of excellence and strong community values, and we look forward to honoring our graduates alongside him." 
Peterson has been with UnitedHealthcare for nearly 25 years. He began his tenure with the organization by helping establish the corporate development department for UnitedHealth Group, the parent company of UnitedHealthcare. Peterson has since served as Chief Administrative Officer of Specialized Care Services (now Optum Health), Senior Human Capital Partner & VP of Administration, and Chief Administrative Officer of UnitedHealthcare Employer & Individual.
In his current role, Peterson oversees the Ancillary & Individual segment, which includes Surest, UHC StudentResources, UHC Specialty Benefits, UnitedHealthOne, HealthMarkets, USHEALTH Group, UMR, UHC Level Funded, UHC Global Solutions, and the Asian Initiatives platform.  
Peterson is the President of the UnitedHealthcare Children's Foundation, a 501c(3) public charity dedicated to enhancing the quality of life of children across the United States. He also serves as Chair of the Owen Graduate School of Management Alumni Board and is an Official Member of the Forbes Business Council. 
Peterson graduated from Hamline University in Minnesota with a bachelor's degree in management and economics and later received a Master of Business Administration from Vanderbilt Owen Graduate School of Management.
"Vanderbilt Business was and is a huge part of who I am as a person and a professional. Owen continues to create the right environment and give students the tools to succeed in business," says Peterson. "It is a great privilege to send off the Class of 2023 and be part of their celebration."