Day in the Life
Imogen Roberts
Imogen Roberts
Vanderbilt MBA
Imogen was a physics undergrad who called London home. Prior to coming to Vanderbilt for her MBA, she worked as a buyer for Urban Outfitters Europe and then transitioned to sales and operations for an emergency engineering company. Imogen was head of Owen's Women in Business Association while at Vanderbilt. She interned with Deloitte and her dream of a career in consulting came true, as she is currently a senior consultant at Deloitte.
6:30 am
Wake up and struggle out of bed. I like to read Twitter and Instagram in bed before actually getting up. It softens the blow of the early start. Also, I often wake up to several messages from my friends in London, so I like to reply before the day takes over.
9:30 am
By the end of class, it's time for my second cup of tea. Being British, my penchant for tea is a constant source of amusement to my classmates, and they definitely know my Starbucks order now!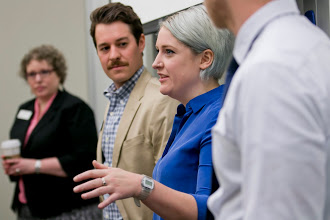 11:20 am
My team is the first up to present our final project in the Operations Strategy class. We are presenting Under Armour and are all dressed in sportswear. We start the presentation with a team chant to set the scene, and a team member shows off his muscles in his extremely tight Under Armour vest! This turns out to be one of the most fun presentations I've made at Owen.
1:00 pm
There are always meetings or Lunch n' Learns to attend. Today, I have a meeting with the Executive Women's Think Tank, and my sub-group is presenting our findings. We have been researching the resources for women at Vanderbilt and have been meeting with undergraduate women's groups, as well as key faculty and executive women in administration. It has been a fantastic opportunity to connect with incredible women on campus and has opened my eyes to all the resources we have here at Vanderbilt.
2:00 pm
I am doing an independent study with a second-year student for a local company—OVATION Events—and we meet for a few hours a couple of times a week. We worked with OVATION to create a marketing strategy to target key new clients and are now implementing a trial of the strategy. It is fun to get out of the Owen bubble and apply what I have learned to a real-world business problem. Working with a local company allows me to make a difference, as well as build my network in Nashville.
6:00 pm
I try to get out of the library in time to do a hot yoga or boxing class. When workloads are high, this is sometimes not possible, but I usually manage it.
8:00 pm
It's a Monday so usually I'm having a quiet night, but there is always someone ready to have a glass of wine and go dancing any night of the week!