By Becca Jensen
Two alumnae establish new scholarships to help strengthen Diversity at Owen
In 1976, less than a decade after the first 10 students enrolled at Vanderbilt's new Graduate School of Management, Amy Conlee began her business education.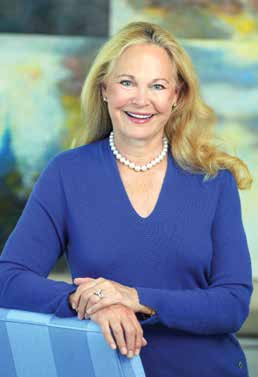 "I was at Owen at a very early stage," recalls Amy Conlee, MBA'77. Our class size was only about 40 students and offered some diversity. We had about five women and perhaps five to eight students who would be considered underrepresented, including international students."
When Lisa McKinnon, BA'78, MBA'87, began her studies a decade later, student diversity at the Owen School was still relatively the same. This is partly why both women recently decided to establish scholarships at Vanderbilt. McKinnon's fund, the Davidson McKinnon Scholarship, which is named after her and her parents, supports women studying at Owen. Conlee's fund, the Cecil and Amy Jorgensen Conlee Diversity Scholarship, is named after her and her husband. It supports women from underrepresented groups. In 1990 Conlee also created a scholarship at Vanderbilt to support women in the MBA program.
"In talking with Dean Eric Johnson, I sensed a strong interest in addressing diversity at Owen right now," Conlee says. "I am very impressed with his commitment to this issue knowing that more diversity would benefit the school and the students."
For both women, their business careers also proved the need for these scholarships. "I started out in banking in 1978 and about 1980 I became the first female commercial lender that my bank ever had," McKinnon says. "I've been in banking ever since, and even today I see that once you start migrating to the very top, to the C-suite or executive suite, I see it still being largely male. This is interesting because banking is a service industry. Whereas manufacturing is more male-dominated, it was just an expectation that the service industry would be more equal. But it's 2016, and it still is not."
"There are glass ceilings that remain," she says. "The only way we will break them is if we have more and more qualified women in the pipeline. One of the ways we do that is to make sure women are equivalently educated to everybody else."
Conlee has a somewhat different story to tell through her career in investment banking at Morgan Stanley's New York office. Though she started out among the first women at the firm, which was actually on the forefront of bringing women to investment banking, over her 17-year career she saw a dramatic increase in diversity as Morgan Stanley became a more international firm. She was among the first female managing directors at the firm.
"Having been in business so many years, I believe every organization—whether it's a business or a university—is significantly improved by diversity," Conlee says. "It brings together different opinions, provides better answers by virtue of those different opinions and experiences, and yields a greater ability to achieve your objectives.
"Personally speaking, diversity has also enriched my life as well. One my biggest regrets from my time at Owen is that I didn't take advantage of the diversity. I think I felt uncomfortable enough being one of the few women that fitting in was my priority rather than getting to know the other diverse students and exploring the viewpoints of others who were different from me," she says.
"That's one of the reasons I feel so strongly about diversity today." Both women also received scholarships as MBA students, making their Owen educations possible, providing a major motivation for giving back today.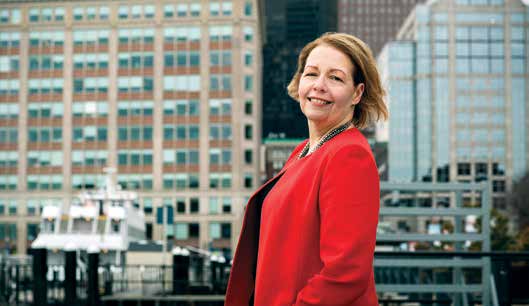 "I'll never forget what Owen did for me, allowing me to go back to school and approach my MBA as if it were my full-time job," McKinnon says. Conlee echoes this sentiment. "I didn't have any financial resources, nor did my family. My scholarship made the difference in which business school I attended."
Looking back on her education, Conlee cannot imagine a different path. "I give Owen great credit for everything I was able to do at Morgan Stanley. I learned so much about finance, working with a team and a lot about my own objectives for my career. Basically, I learned about myself. "One person who was a major influence on me was my finance professor at the time, Jim Davis. Because of him, I felt totally prepared to work at Morgan Stanley and compete with the top people from the top schools."
Owen's Diverse Connections
Conlee's time at Vanderbilt also helped her get her foot in the door of the investment banking world. During her second year at Owen, the school got a new dean, Sam Richmond, who came from Columbia University. At the time, investment banking firms did not recruit at Owen. He gave her names of industry people in New York so she could write letters and get interviews with them.
"I hope my support inspires others to establish similar scholarships, but there are other ways to support underrepresented women, too. I had a successful career because someone helped connect me to important industry contacts," Conlee says. "It's important that we, as alumni and friends of Owen, continue to refer diverse candidates for job openings and make those important introductions." McKinnon's time at Owen played a pivotal role in shaping her as a businesswoman as well. "In my second year, I took the strategy class that was taught by Bruce Henderson, who had founded the Boston Consulting Group," she says. "I thought the class would be easy because I had seven years of experience under my belt and exposure to multiple companies across various industries. It was not.
Bruce did not make it easy. He was there not necessarily to give us answers, but he wanted us to think. "What I learned from Bruce was that the goal is not that you ace every exam," McKinnon says. "It was less about what is exactly right and more about how to think strategically—and to be exposed to these different strategies because there's no one strategy that works in all cases. I'll never forget it."
Now 30 to 40 years later, both of these alumnae are helping a new generation of women create their own unforgettable experiences at Vanderbilt.