Kim Newton, MBA'96, took a very different path than most MBA graduates when she joined the world's largest greeting card company.
By Randy Horick, BA'82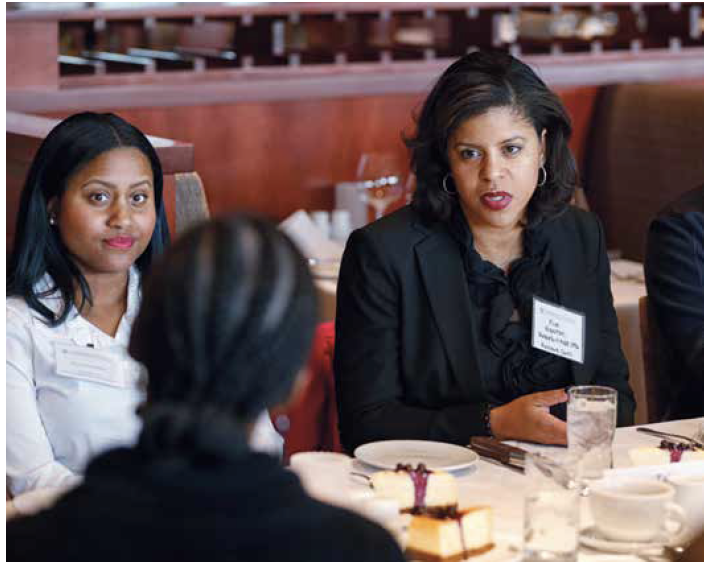 Kim Newton might be consulting with a greeting card executive at Hallmark in Kansas City one day. The next day, her team might be addressing a challenge for the company's Crayola, ornament or home décor businesses. Then, the following week, she might be focused on the digital intersection of greeting cards and Silicon Valley. It's all part of the routine for Newton, vice president of corporate strategy and business development at Hallmark. And if it sounds much more complex than the average consumer might expect from a company whose reputation was built on printed cards sold on retail racks, Newton can quickly set you straight.
"Hallmark is a very diversified business," says Newton, who has been with the company now for two decades. "We have a cable network. We have a home and gifts business. We have a jewelry business. We own about 500 stores and have an independent owner network where retailers license the Hallmark name. And we're in 90 countries internationally. We have a lot of permission to be part of people's lives."
In her position, Newton leads a strategy team that fulfills the role of internal consultant, helping various business units within Hallmark address challenges and opportunities, helping leaders within the company build their capabilities, and helping the company evolve in a changing field.
"There is a misperception about our business," Newton says. "The greeting card industry has been in decline for a long time, but the decline is less than 1 percent a year. It's not like DVDs or film. It's still a relatively healthy category. People still send cards— even millennials send cards—and now they're connecting more than ever with digital options."
In fact, she says, one of her responsibilities (at least one of the ones she can talk about; "most of my work is pretty confidential," she says) involves cultivating partnerships across categories with West Coast companies such as Amazon to strengthen Hallmark's digital capabilities.
Newton's diverse array of experience within the organization prepared her well for her current role. When she joined Hallmark in 1996 after earning her MBA, she went into the company's rotational leadership development program. That enabled her to work in a variety of positions—from marketing manager of Hallmark's ethnic business center to senior manager of Hallmark Gold Crown Stores to product director of everyday greetings.
A decade ago, Newton joined the company's business transformation team, which was tasked with looking at Hallmark's business end to end. "We changed about 80 percent of our processes as a company," she says, "and that experience gave me an opportunity to look at how our entire company worked—and should work."
In many ways, Newton's work has an entrepreneurial flavor—and her time at Owen helped equip her for that responsibility. "I think Vanderbilt really nurtured my entrepreneurial spirit," says Kim, "and I think that fueled my confidence."
Bolstering and validating her confidence to press boundaries, in fact, was perhaps one of the most important lessons from Newton's Vanderbilt experience. Going against conventional wisdom, she eschewed an offer from Morgan Stanley after completing her undergraduate degree from Nashville's Fisk University and applied to the MBA program at Vanderbilt instead.
"I was one of five people in my class at Owen who went straight through from undergraduate," she recalls. "After majoring in accounting, I realized I didn't want to make a career of it. " A part-time job in college with an African American art gallery piqued her interest in combining business and the arts, and that in turn attracted her to Hallmark. Channeling that boundary-pushing spirit, she directly approached the company. "They didn't recruit at Owen at that time," Kim recalls. "I knocked on their door."
She became the first of six Vanderbilt MBAs to join the company. "I think a lot of people (at Owen) became interested in the brand after that," she says. In retrospect, she's very happy she didn't listen to others' advice to start a career before pursuing an MBA, or to pursue opportunities after Vanderbilt to follow a more traditional management path, including an offer from Procter & Gamble that she declined. And, for that matter, she's happy she went against convention and has spent her entire career with one company rather than following her initial plan to move to her native Northern California after two years.
"People will put limits on you if you allow them to," she says. "If you listen to what everyone tells you, you can miss out on great opportunities. Vanderbilt didn't put any limits on me. In fact, they helped me break down walls."