Vanderbilt Executive MBA students are curious, adaptable, self-aware, and persistent lifelong learners. Above all, they are team players, self-starters, and complex problem-solvers. Each class represents a deep diversity of backgrounds, industries, and organization sizes. Most typically, they are:
Mid- to senior-level managers and executives who choose to continue working while advancing their career trajectories.
Successful entrepreneurs who want to move their businesses to an even higher level.
Professionals–such as accountants, attorneys, and physicians– who seek to manage instead of practice.
Managers in technology and scientific industries (such as healthcare, biotechnology, and information systems) where the pace of change makes spending two years away from the job unrealistic.
Vanderbilt's Executive MBA program offers a unique advantage for those with the following backgrounds and demographics:
CLASS PROFILE
Average Class Size
50
Women
34%
Military
15%
Married
57%
Avg. Years Work Experience
11 (range 5-33)
Advanced Degrees
22%
Average GMAT*
615
Average Executive Assessment (EA)
151
Includes both Executive Edge and Global Immersion Track students. Class profile is a multi-year average.
JOB FUNCTIONS
General Mgmt/Entrepreneurship
21%
Marketing/Sales
19%
Operations/Logistics
16%
Finance/Accounting
15%
Professional/Consulting
15%
Information Technology
14%
INDUSTRIES REPRESENTED
Consumer Products/Manufacturing
26%
Healthcare/Pharma/Biotech
21%
High Tech/Energy
14%
Government/Nonprofit
14%
Financial Services
13%
Other (Includes Consulting, Media/Entertainment and Logistics)
12%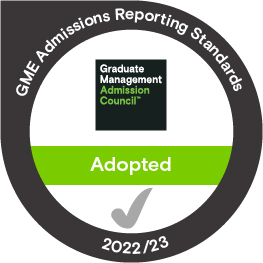 Data reported in our marketing collateral and digital properties aligns with the Graduate Management Education Admissions Reporting Standards. Graduate Management Admission Council and the Square logo are trademarks of the Graduate Management Admission Council and used with permission.
By the numbers
The percentage of Executive MBA students who hold advanced degrees prior to entering the program.
WE ARE
VANDERBILT
BUSINESS.