The MBA admissions representative for Armed Forces candidates explains why business school is a good choice
By Kara Sherrer
Transitioning from the military to civilian life can be challenging, and veterans all approach this life change differently. Some go into military contracting, while others immediately get a job on the civilian side. Still others decide to return to school after the military, and getting an MBA (Masters in Business Administration) can be a great way for veterans to prepare themselves for a new career.
To get the full picture of how an MBA benefits veterans, we sat down with Christie St-John, Director of Admissions for the MBA program at Vanderbilt Business and the admissions representative for all Armed Forces candidates. Here are the top ways she says business school helps veterans:
Career Switching Support
Most veterans leave the military with a strong background in operations work. While many veterans can and do get a civilian position working in operations, others want to switch into a different function entirely. An MBA program's breadth helps veterans ease into a wide variety of industries and makes it easier to get a different kind of job.
"(The MBA) gives them skills that they can use in different sorts of careers…their transition will better, smoother, and financially enhanced with an MBA," St-John said.
Bigger Starting Salaries
Getting an MBA generally results in a higher starting salary for military veterans; for perspective, the average base salary for a Class of 2017 MBA graduate at Vanderbilt Business was $113,205, plus a $25,232 signing bonus. An MBA also improves the probability of future promotions. When asked how she convinces veterans of the value of an MBA, St-John says: "I would probably go to them and say, 'This will be your starting salary if you start a job right now, and this will be your starting salary if you graduate with an MBA.' That usually does it."
Larger Professional Network
Going to business school will greatly expand your network beyond current and former military personnel. You'll connect with professionals across a variety of functions and industries. Through the recruiting process, you'll also learn how to network with people, a critical skill for navigating the civilian business world. "They don't have to network in the service. You just get your next promotion and there you go," St-John explains.
Career Resources
Business schools are invested in helping students succeed: after all, it doesn't help anyone if students drop out or don't get a job. "(One veteran told me,) 'In the (military) academies, they're trying to keep you out. Business schools actually want to keep you in,'" St-John recalls, with a laugh. Business schools offer career support services, such as the Career Management Center at Vanderbilt Business, to help all students narrow down possible options, update their resumés, and prepare for interviews.
Veterans Clubs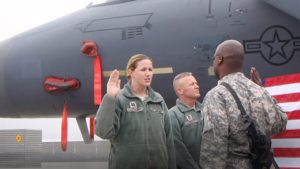 In addition to career management services, many schools also offer veteran clubs that give members a place to network with fellow military personnel and get advice on specific recruiting challenges for veterans. For example, "the Armed Forces Club will help (veterans) translate their military resume into a civilian resume," St-John explains.
Financial Aid
Depending on the length and nature of the military officer's service, several sources of financial support are available. Both the G.I. Bill and the Yellow Ribbon program are possible funding sources for veterans. Outside scholarships such as those provided by the Pat Tillman Foundation may also be an option.
Many Job Opportunities
Lots of civilian companies are actively looking to hire veterans for their leadership and teamwork experience and their ability to work under pressure. Veterans with MBAs are very desirable candidates for certain industries, including the high-stakes world of investment banking. "Most of the companies we work with have a specific division that is looking for military candidates," St-John said. "(Companies want veterans) because they know they're going to be very mature, focused, and stable, and they're obviously excellent at working in teams."
If you're a current or former member of the Armed Forces contemplating your next move, reach out to Christie St-John or learn more about the Vanderbilt Business MBA program.