The Forté Foundation and other organizations provide many resources for women business leaders, including scholarship money, conferences, and job boards
By Kara Sherrer
Women make up about 50% of the population — but they only earn 36% of MBA degrees, and the number of women in business decreases at each successive step up in the leadership pyramid: In S&P 500 companies, women hold only 26% of executive roles, 21% of board seats, and just 5% of CEO roles.
It's statistics like these that inspired the inception of the Forté Foundation in 2001. The Forté Foundation is a "non-profit consortium of leading companies and top business schools working together to launch women into fulfilling, significant careers through access to business education, opportunities, and a community of successful women."
Supporting the careers of women business leaders isn't just the right thing to do. It also makes financial sense for companies. "Research has shown that companies that have more women on the boards or running the company tend to make a better profit," Christie St-John, Director of Admissions for the MBA program at Vanderbilt, a partner school of the Forté Foundation.
Forté Fellows Program
One of the most well-known resources offered through the foundation is the Forté Fellows program. Women applying to MBA programs at the 50+ partner schools are eligible for consideration as long they submit an answer to the required question. Scholarship awards are based on academic merit and a history of supporting women in the business world and/or local community.
Beyond scholarship money, fellows get many benefits, notably access to the Forté MBA Women's Leadership Conference, held in mid-June each year. At the conference, women hear from expert speakers and network with potential employers. In fact, many fellows land internship interviews from the conference, months before their MBA programs even start. Most schools have career coaches that help fellows polish their resumés and prepare for networking before the conference.
Julia Brown (MBA'19) secured two internship offers as a direct result of the Forté Conference before orientation. While it was a difficult decision, she eventually accepted an offer from ExxonMobile because they gave her the option to intern abroad; she spent eight weeks in Budapest, Hungary, this summer.
"It was incredible to be able to come in with (two offers) from companies that I really respected," she said. "The time I saved by not having to go through recruiting again was invaluable to me."
In addition to the offers, Brown says that she really appreciated the chance to network with both fellow MBA students and more experienced business leaders. "You get to network with a lot of really amazing women from all over the United States and really top-tier schools…it's just really inspiring to be in a room with 800 other women about to enter business school and hear from (accomplished) women leaders," she said.
Whether or not they're Forté Fellows, female MBA students can also read inspirational MBA profiles, attend education webinars, and browse the job board. The Forté Foundations also helps business schools start chapter of their Male Allies group, which encourage male MBA students to champion gender equality.
Support for an Entire Career
The Forté Foundation works with women at four key stages of their careers: college, post-college (no MBA), MBA, and post-MBA. The college student initiatives focus largely on exposing younger students to potential career opportunities in business and teaching helpful basics on topics like networking, recruiting, and interviewing. Forté also offers a variety of pre-MBA events and programs to guide women through the application process and map out their business careers.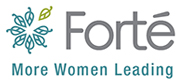 For post-MBA professionals, the Foundation offers a job board and career development webinars, as well as an initiative to get more women on the boards of major corporations. "The whole purpose behind (Forté) was to get more women into business schools, and then from business school into businesses, and then from businesses into the C-suite, and then from there into boards of directors," St-John said.
The website also highlights the careers of women in significant business leadership roles, like Nancy Wang (MBA'05), Global Project Manager – Real Estate and Construction at Airbnb. "Owen equipped me with an in-depth understanding of global business. The collaborative team work and global diversity at Owen was definitely a valuable experience that opened the door to the world. My MBA continues to contribute to my career," she told Forté.
Other Resources for Women
The Forté Foundation is not the only resource available for women pursuing an MBA. The vast majority of business schools have a Women's Business Association or similarly named chapter for female students to come together for personal and professional development; the Owen Women's Business Association (WBA) works closely with the undergraduate Women in Business (WIB) chapter.
The National Association of Women MBAs (NAWMBA) offers both academic and professional chapters for women who are either graduated from or currently enrolled in MBA programs. The chapter hosts networking events, local conferences, mentoring programs, and more. "It's a different kind of network than Forté, because Forté doesn't specifically have professional groups," St-John explains.
Many other resources are available for women in business outside of MBA-specific organizations. Some of the most recognizable ones include the American Business Women's Association, the Ellevate Network, and the Women's Business Exchange. Other more specialized groups are also available for women working in specific job functions or industries, such as tech, banking, and entrepreneurship.
To learn more about resources for female candidates at Vanderbilt business, click here for more information or reach out to Christie St-John.