In any given year at Vanderbilt, about 40 percent of our students are "career enhancers"—individuals seeking to dramatically accelerate a current career trajectory. Another 35 to 40 percent of are "career switchers"—those who want to change industries or disciplines and need the knowledge, career connections and support for a successful transition. Other students fall into an "aspiring entrepreneur" category and view an MBA program as an opportunity to identify and hone their management skills.
No matter your goals, you are considering a significant step. We want to help you through the process by offering some advice from our expert admissions team, career management team and current and former students and professionals who have taken this same journey before you.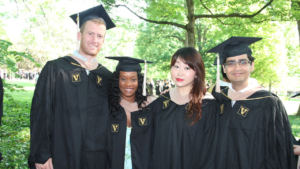 We have created a "What You Need to Know" series of articles on how to switch into various career paths such as: consulting, finance, marketing, human resources, healthcare, or operations. You might be wondering how to get a job in the tech industry and we can help with that too.
Healthcare is a hot industry, and especially here in Nashville, a city named by The Wall Street Journal as the one of the "hottest places for healthcare." We can help you discover where MBAs go to work in healthcare, and we have six tips for career success in the healthcare industry.
Career transitions are a big step for everyone, especially for those transitioning from the military into the business world. We have helped hundreds of former and active duty military to pursue their MBAs, and we have experts—both staff and students—who are eager to share their advice. Hear from our veteran students about the military-to-MBA transition.
If you're wondering when's the right time to earn your MBA, check out the article "Am I Too Young (or Too Old) to Get My MBA?".
Our recruiting, admissions, and career management team members have years of experience coaching prospective students through the process of deciding whether to pursue an MBA. We would love to help you through your MBA journey. Contact us and let's get started.
Find out "Why Vanderbilt?" here.
Need admissions information? Click here.